Saphiel Sir

yoshiko:
so we can't breed the new one and then do breed moves onto it? :x
I'm not 100% certain, but so far unique special event Pokemon can't be bred, no. Ash-Greninja (Greninja with the Battle Bond ability) can't breed, or Pokemon from previous games such as Cosplay Pikachu. The anime makes it seem like a one-of-a-kind situation.
Assuming it has the same learnset as the other Lycanroc's, the only relevant moves that Tough Claws will boost are Accelerock, Crunch and Brick Break, which will all be 30% stronger on it. Having stronger Fire and Electric coverage from a boosted Fire/Thunder Fang would have been great though (84.5 base power compared to 65), along with a more powerful priority Sucker Punch (91 power compared to 70).
That said, they did previously release a normal Midnight Lycanroc that already had Fire Fang and Sucker Punch on it, so here's to hoping.
(Edit: I was right about hoping they'd release the event Rockruff with the egg moves already on it, the Ultra Sun Rockruff comes with Fire Fang and the Ultra Moon Rockruff comes with Thunder Fang.

No Sucker Punch though)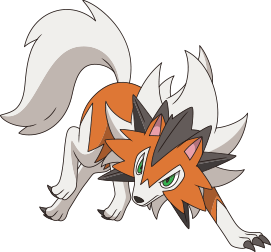 Anime art here.