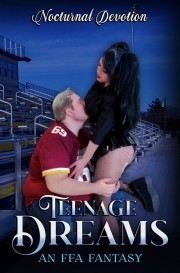 Teenage Dreams
A female fat admirer fantasy. A sexy goth girl lusts after a preppy jock. She thinks there's no chance, but they find that their worlds and desires are not so far apart. When it comes to their fetish they understand each other like no one else could, and what ensues are the things feeder and feedee dreams are made of.

Bonus feature: Author's video reading of chapter 20 - Harem Girl.(20mins in duration)

A full length book of nearly 70,000 words.
About the author:
Nocturnal Devotion (aka NoGutNoGlory): Even before finding sites that share stories I wrote my own FA erotica. I love incorporating teasing as well as worship into the dialogue. I'm big on size contrast, stuckage, bursting seams, and popping buttons. I enjoy writing because the stories I write really turn me on and I love to be able to turn other people on with my writing as well.
Fantasy Feeder says:
NocturnalDevotion is an up and coming author in the weight gain fiction genre. Focusing on real life experiences and fantasy's as an FFA / Female Feeder.

Teenage Dreams is exactly what it says on the tin. There is a tangibility to the story as it draws from the authors own experiences and desires, and really does a great job of exploring the concept of young love, and the discovery of sexuality and feedism. This is definitely one not to miss!